FOUNDATIONAL SKILLS SOLUTIONS FOR YOUR CAMPUS-WIDE NEEDS
While foundational skills like critical thinking, logic and reasoning, information literacy, and communication are widely considered to be among the most important outputs of a college education, employer surveys suggest college graduates are not showing up to work job-ready. NimblyWise supports a successful campus-wide foundational skills strategy; from instruction, to assessment, to faculty engagement and more.
STUDENTS
Build foundational skills throughout all learning experiences – inside and outside the classroom – get consistent feedback on your progress, and learn how to employ your skills to be career ready.
FACULTY & STAFF
Align your course and program assessments with foundational skills and embed within a streamlined platform connected to your LMS – all while utilizing data in the near term to optimize instruction.
ASSESSMENT & ACADEMIC LEADERS
Measure student performance on foundational skills by course, program, or campus-wide. Map to learning outcomes to support the requirements of accreditation.
PRESIDENTS & CHIEF ACADEMIC OFFICERS
Attain institutional goals to consistently deliver foundational skills via successful campus-wide coordination.
CONTINUOUS INSTRUCTIONAL IMPROVEMENT IS THE KEY
Successfully equipping graduates with strong foundational skills requires engagement by the various areas of campus which impact instruction. The key to effective learning is true closed loop assessment; a process which is accomplished by constantly cycling through skill measurement to support data-driven instructional strategy, which is then carried out by faculty who more effectively assist students with improving their foundational skills. NimblyWise has enabled institutions nationwide to successfully and effectively execute continuous instructional improvement strategies.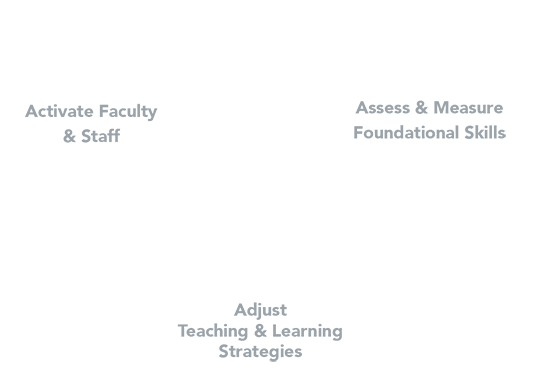 Consistent Measurement and Reporting

Capture and measure student learning through automated assessment workflows, deploy and review course specific and common assessments, and automatically report results all in one place.

Instructional Strategy Adjustment

Link assessment and reporting on student foundational skills directly to faculty's instructional strategies and support same and next-term adjustments to course delivery to deepen student skill achievement.

Faculty Professional Development

Support faculty in continuous instructional improvement by linking learning outcome assessment to NimblyWise's regional faculty workshops, best practice webinars, and peer and expert insights on instructional and assessment strategies.
FIND THE RIGHT SOLUTION SET FOR YOUR CAMPUS
NimblyWise assesses each campus individually - identifying your strategy's strengths and gaps to uncover which solutions best suit your needs. Talk to us today about we how can help your campus develop career-ready students, equipped with the foundational skills needed for success.
Blog and News
It's no surprise that having a high turnover rate among your employees is bad for business: morale sinks and institutional knowledge leaks out the door. While compensation remains the main reason newer entrants to the workforce leave their jobs, opportunities for professional development follows a close second.   In today's rapidly evolving landscape, employees need to Read more about The Competitive Edge of Professional Development[…]
Previous
Next