One of the ongoing debates in media of late has been whether news outlets should interview people with a track record of overt deception. The argument goes that on the one hand, some of these people are in positions of authority, and that title alone makes them experts of a sort whose views should be part of the conversation. On the other hand, willfully spreading objective untruths sours the conversation before it can really begin.
Unfortunately, even with the best intentions, the media uses the word "expert" more liberally than the definition warrants. For example, often the title is applied to people who currently or recently work at for-profit think tanks that might have an explicit political bias. There isn't always enough time during the interview to explore this context, and many outlets simply leave that responsibility to the viewer.
To put this conversation in the academic context, I'll refer to the Association for College & Research Libraries (ACRL) Framework, particularly what it has to say about the concept of Authority.
"Authority Is Constructed and Contextual"
In short, the authority of a speaker, be they scholar or public servant, should be evaluated on an ongoing and contextual basis. Gaining the skills to accurately evaluate experts—and to be able to make informed choices with regard to the information they present—is a big part of the push to increase critical thinking and information literacy instruction on campuses around the country.
Watch the video below to learn more about what constitutes authority and how information seekers should assess it!
Do you have the critical thinking skills needed to get to the real truth? Learn more about how to bypass fake sources and test your information literacy skills with Credo Education's fake news test!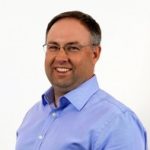 Mike Sweet is a visionary business leader who is taking education and the world of work into the future. His experience managing hundreds of employees helped him recognize the need for education to go well-beyond simple knowledge and technical skill acquisition to ensure people know what, how, and when to learn something new. This real-time learning ability is crucial for success as we are in the 4th Industrial Revolution. Prior to NimblyWise, Mike was the CEO of Credo Reference, a SaaS based research platform provider, for 10 years. His expertise in technology, culture-building and business growth strategies enabled Credo Reference to expand rapidly and build a loyal customer base of thousands of libraries. The company earned several awards for its products and services, including SIAA CODiE awards across multiple categories, Library Journal's Best Reference Award, Choice's Outstanding Title recognition, and a place on eContent Magazine's Top 100 Companies. Before joining Credo Reference as CFO in 2006, Mike served as CFO and COO of CoreWeb, a software development and consulting company. He also spent seven years at Global Insight providing Fortune 500 companies with business planning solutions for market analysis and strategic planning. Mike holds an MBA from Babson and lives in Natick, Massachusetts with his wife, Jessica, and his two daughters, Charlotte and Avery.