Forces of technology and exponential information in the new economy have changed how businesses react to the market, putting pressure on employees at all levels to proactively learn in real time and quickly adapt. I recently shared some of my research into what skills the knowledge economy demands, and how these skills can transform the workplace and an employee's potential.
There is a profound gap between the perception of business leaders and chief academic officers as to whether graduates possess the skills necessary to succeed in the workforce. According to a study conducted by Inside Higher Ed, 96% of chief academic officers believe their students leave college prepared for work, compared to only 11% of business leaders.
Credo's hypothesis is that as changes in the knowledge economy force workers at all levels to be able to adapt, conduct real-time learning, and execute problem solving, people will need to be able to demonstrate the following skills:
Critical thinking
Communication
Cultural awareness
Logic and reasoning
Information literacy
Watch the full webinar here (slides) to see how these skills fit into the overarching mission of higher education, and how mastery of these skills will benefit individuals, employers, and academic institutions in the coming years.
Let's keep the conversation going! Follow me on Twitter at @_Mike_Sweet.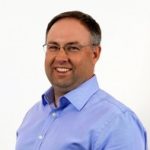 Mike Sweet is a visionary business leader who is taking education and the world of work into the future. His experience managing hundreds of employees helped him recognize the need for education to go well-beyond simple knowledge and technical skill acquisition to ensure people know what, how, and when to learn something new. This real-time learning ability is crucial for success as we are in the 4th Industrial Revolution. Prior to NimblyWise, Mike was the CEO of Credo Reference, a SaaS based research platform provider, for 10 years. His expertise in technology, culture-building and business growth strategies enabled Credo Reference to expand rapidly and build a loyal customer base of thousands of libraries. The company earned several awards for its products and services, including SIAA CODiE awards across multiple categories, Library Journal's Best Reference Award, Choice's Outstanding Title recognition, and a place on eContent Magazine's Top 100 Companies. Before joining Credo Reference as CFO in 2006, Mike served as CFO and COO of CoreWeb, a software development and consulting company. He also spent seven years at Global Insight providing Fortune 500 companies with business planning solutions for market analysis and strategic planning. Mike holds an MBA from Babson and lives in Natick, Massachusetts with his wife, Jessica, and his two daughters, Charlotte and Avery.